Members of our team have worked at such top Chinese game companies as Kunlun Tech, Seasun Entertainment and Perfect World. Our team has over 8 years experience publishing games around the world, is deeply rooted in local markets and thoroughly understands local user demands. We also have strong professional abilities from the tech side to operations, marketing, localization and customer services. We have rich cooperation resources within China, including mobile game R&D and traffic channels; are highly experienced at launching big products overseas; and have rich distribution channels. Our core team has been working together for several years, is familiar with the game publishing process and related technologies, and can efficiently cooperate with mobile game developers.
We have published such games as MU, GODDESS, Elsword: Evolution, CLANS, Dragon Nest M, Release the Three Kingdoms and Three Kingdoms Blade. Of these, MU (launched 2015) was a No1 grossing game in Hong Kong, Macao, Taiwan, Thailand and Vietnam; GODDESS and Elsword: Evolution (launched 2016) were both top-10 grossing games in Hong Kong, Macao, Taiwan and SE Asia; and Clans (launched 2017) was also a top-10 grossing game in South Korea.
Over 8 Years Publishing Games Overseas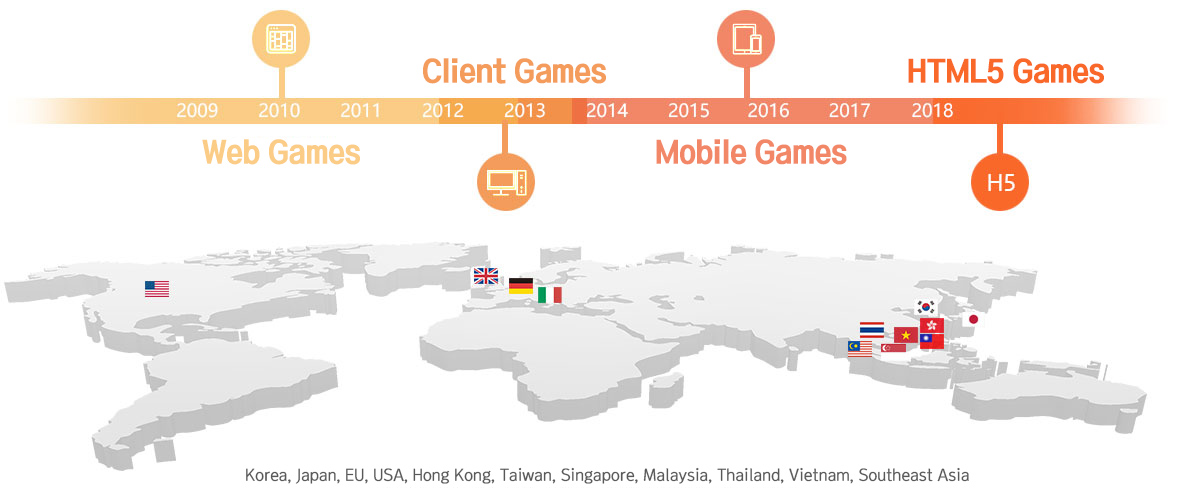 Game Publishing Experience
Representative Products
Well-known domestic products: MU, CLANS, Dragon Nest M, Release the Three Kingdoms, Three Kingdoms Blade etc.
Grade B-B+ domestic products overseas top-10 grossing games: Goddess (Heroes of Chaos), The Grand Duelist.
Overseas Localization Strategy